In his last two starts, Hurricanes goalie Petr Mrazek has posted a 27-save shutout against the New York Rangers and a 3-2 loss to the New Jersey Devils. In New York, the Canes played fantastic, and Mrazek made numerous brilliant saves. In New Jersey, the team came out flat and despite Mrazek's individual efforts to keep the team in it, they broke down defensively one too many times. With our goalies splitting starts, and one of them, Curtis McElhinney, being a successful mid-season waiver claim, it sometimes feels Mrazek doesn't get the praise he deserves.
Against my better judgment, I was making my way through the comments on some of the Carolina Hurricanes' social media pages. I found a brief thread in which a guy maybe a little younger than I was arguing that Mrazek has been bad for the Hurricanes. I'm sorry, WHAT? In essence, he was saying that Mrazek doesn't give us as good of a chance to win as McElhinney and I needn't "look any further than the stats." Here's the thing. Yes, McElhinney is playing well and yes, the numbers favor him, but that doesn't mean Mrazek is bad. I know, we're Hurricanes fans, and having two competent goalies is a completely foreign concept. I don't know what to do with my hands, either. I'm not going to compare the two's advanced stats, but I want to address this notion that Mrazek has been "bad" because, to me, the eye test suggests otherwise.
The frustrating part about a goalie and his stats is that he and the skaters can play lights out as a unit, but one momentary defensive lapse can be a gut punch to the goalie's stat line. Especially if a game script plays out where the goalie doesn't see many shots. What's the result? Poor numbers and a whole crop of people that think save percentage (SV%) and goals against average (GAA) are the be all and end all.
Mrazek has a SV% of .897 and a GAA of 2.73, yet he's been solid for us this season. Those numbers are concerning at best, and they don't do him any justice. On the most basic level, they are influenced by quality shots against. But, what qualifies as a "quality shot?" Most goals are scored from the slot or off of second and third chances (rebounds). Mrazek does fine at handling the low and medium-danger shots. However, his SV% will be lower and his GAA inflated if he faces more shots from high-danger areas, which he does. Many of his goals against come from those high-danger areas, which makes it difficult to blame his average stat line solely on him.
If there was just one overwhelming truth that I could deliver to all hockey fans, it's that there is so much more to goaltending than pucks saved, pucks behind him, and those two aforementioned stats. They don't tell the whole story. What Mrazek has been doing so well, and consistently, is coming up with timely saves and big saves. He's been great at keeping momentum with the Hurricanes after they grab it. Another unsung hero trait that Mrazek displays is the ability to remain engaged even when the Hurricanes are dominating possession. There are many NHL goalies that thrive in chaos, for it helps them feel the pace of the game. Mrazek can handle periods of inactivity in his own end and still come up with the needed saves. That's something not all goalies have.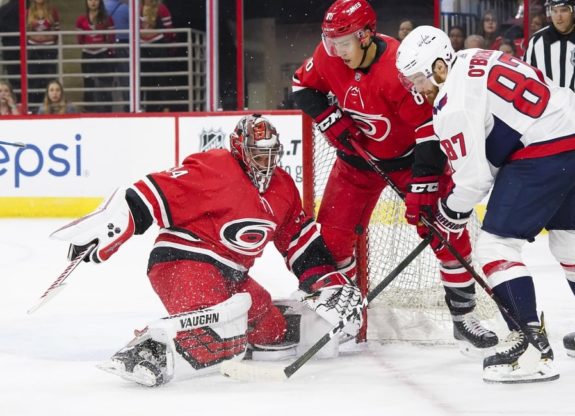 In assessing Mrazek's play on a game-to-game basis, I'm looking for more than how many times he gets scored on. I'm looking for his calmness in the crease and how controlled his movements are. Probably half the time (if not more), goals against aren't strictly the goalie's fault. You have to ask the question of how the goal came to be. How did the scoring chance develop? Were the Hurricanes shorthanded? Was there a defensive zone turnover? Did a neutral zone turnover allow a scoring chance in transition? Did a defenseman get caught pinching at the blue line and allow an odd-man rush? Did the defense lose track of a forward in the neutral zone and allow a breakaway? In the defensive end, was each skater covering the man they're supposed to be?
Mrazek is a battler in net and that's why I think he's been such a great fit with us. He specifically asked for a 1-year "show me" contract to prove he belongs in the NHL, and he's done just that. He also said himself that he plays better on 1-year deals. He saw a team in the Carolina Hurricanes that is right near the tipping point of becoming a force in the NHL, and he signed knowing that everyone in the room had something to prove. How's that for motivating a team's play?
What I'm arguing is that outside of his angles, depth in the crease, and puck-playing decisions, there are many scenarios in which the goalie cannot account for every variable. Hockey is a team sport, and those guys scoring on Mrazek just so happen to be professionals. Everybody has a responsibility defensively, and it's not as simple as goals against falling on the goalie alone. So, to argue that Mrazek has been bad because of two stats is just simply an incorrect take. As cool as statistics are, they don't always tell the whole story. Sometimes all you need is an eye test, and Mrazek continues to pass those time and time again.
I'd be one to say I hope he re-signs with Carolina next season. He brings the right compete level, and I'm comfortable every time he's in the crease. My opinion is that we're witnessing Mrazek's steady rediscovery of the 2014-2016 form he displayed with the Detroit Red Wings. We also have to consider that Curtis McElhinney could be free agency-bound because of his age, which adds to the argument that we should re-sign Mrazek. What will the goalie tandem look like in the 2019-2020 season? I'm not sure. What I do know is that, if he wants it, Petr Mrazek has played well enough to take one of those spots.