With a week to go until the start of the NFL new year, I figured i'd take a look at the free agency market and create my own wish list of players I personally would like to see the Panthers make a move on this offseason. Now, as Carolina sports typically go, we aren't exactly swimming in salary cap money, so I wouldn't expect us to splash in on any pretty names this year. Maybe just one guy if we're lucky. With that said, here's a five guys I think can be reasonable pick ups headed into the 2019 season.
Matt Paradis, Age: 29, Position: Center, Former Team: Denver Broncos Paradis is a interesting prospect that I think Carolina should be able to sign on a bargain deal. A former Super Bowl champion –Yes, Cotchery caught it–who's coming off foot surgery after fracturing his fibula back in week 9, and reports are saying that he's ahead on rehab at the moment. This may not be who you want to bank on anchoring your offensive line this season, but with former Panthers center Ryan Kalil now retired, Carolina is going to need to find his replacement sooner rather than later. With his recent injury I would like to assume that Paradis won't get many long term offers, and instead be offered prove it deals to see if he's 100% healthy and still in good form. With the vacant opening in Carolina, the Panthers make perfect sense for Paradis. At 29 years old this gives the Panthers a proven veteran option at center, and can give them more time to find the long term replacement at center.
Ramon Foster, Age: 33, Position: Guard, Former Team: Pittsburgh Steelers
Another veteran lineman to bolster the core. The theme for free agency this season should be to protect Cam Newton at all cost. To do this we'll need not only vets but young talent as well to ensure our offensive line is as stable and deep as can be. Foster has been in Pittsburgh his whole career so it may be tough to lure him away from his home. However, with all the drama oozing out of Pittsburgh lately it may not be that hard to lure a veteran player who's seeking to end his career on a better note. Foster has spent his career protecting Ben Roethlisberger, meaning he's used to having a quarterback who can also keep a play alive with his feet. Something Roethlisberger and even more so Newton, excel at. At the very least Foster could provide great depth should the Panthers choose to find their future guard through the draft.
Ezekiel Ansah, Age: 30, Position: EDGE, Former Team: Detroit Lions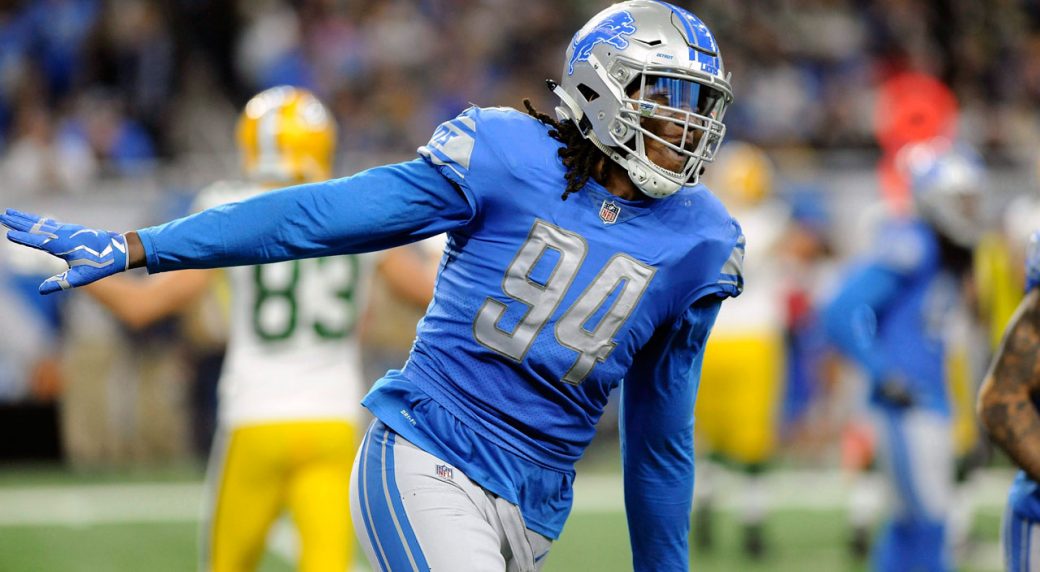 The Panthers need a pass rush in the worst of ways.
There isn't a single Panthers player on that whole list. One of the most infuriating things of last season was how much time opposing quarterbacks had just sitting in the pocket and picking apart our defense. Ansah could be the band-aid here. Out of this years top edge rushers in free agency, the player with the highest percentage of pass rush snaps with a sack or QB hit since 2017 is none other than Ansah. In 2017 he registered 12 sacks and 17 QB hits. His problem however has been availability as last season he only played in seven games and hasn't registered a full season since his 2015 pro bowl year. Ansah makes sense from a financial aspect as the Panthers will definitely be revamping their defensive line this offseason, using both free agency and the draft.
Ha Ha Clinton-Dix, Age: 26, Position: Safety, Former Team: Washington Redskins
Clinton-Dix could very well be the perfect option next to newly re-signed vet, Eric Reid. It doesn't look like there are that many starting caliber safeties in this years draft so the Panthers may very well have to double dip their cash at the safety position this year. Now that it's official that Mike Adams won't be returning to Carolina next season, finding Reid's running mate is officially a top priority for this front office. Clinton-Dix makes for an interesting case for the spot.
Here's a guy who was traded mid-season last year from Green Bay to Washington for just a 4th round pick. Impressively enough, Clinton Dix has never missed a game since entering the NFL, starting in every game in the past four seasons. He's been highly productive as well, recording around 80 tackles and multiple interceptions in each season. It'll be interesting to see what his market value is in a loaded free agent safety class, but if the Panthers want to splash in on a position for quality, safety would be the way to go this year.
Tyrell Williams, Age: 27, Position: WR, Former Team: Los Angeles Chargers
Williams is coming off his most disappointing season as a pro since going off for 1059 yards back in 2016. Good thing is, we don't need that kind of production from Williams (feel free to reach it). The Panthers find themselves in a spot they haven't been at in a long time, if ever. Having a surplus of weapons around Cam Newton. With wide receivers D.J. Moore and Curtis Samuel taking over and Jarius Wright proving to be a reliable target, and you can't not mention Christian McCaffrey out of the backfield, Carolina is really only missing one piece for their receiving core. A bigger possession guy who actually knows how to use his body to his advantage, unlike some past players who have came through Carolina.
Williams can be that guy, at 6'4 205 pounds, Williams has the size and skills to be an effective target in the league. He's been shaky with the drops but it's nothing compared to what Carolina fans are used to seeing. Last season, he registered his best catch percentage of his career, reeling in 63.1% of the balls thrown his way. To compare, Devin Funchess brought in just 55.7% of his targets last year. That stat along would be a significant improvement for the team.