With a little over a week to go til the NFL draft it's time to ramp up the draft hype, so I'm entering the mock draft game with my first ever Carolina Panthers mock draft. This draft was done through a simulation on The Draft Network's mock draft machine. There were certain players who slipped pretty far in this sim that would be a no-brainer take if they were there in real life, but I tried to keep it semi-realistic with who I selected and in what round.
So without further ado.
Round 1, Pick 16: Brian Burns, EDGE, Florida St.
Edge rushers are something that Panthers currently have a severe lack of. The current starters on the roster will likely be newly signed Bruce Irvin and Mario Addison and the depth behind them isn't pretty. Elite pass rushers are hard to come by in later rounds of the draft so the Panthers pull the trigger early on an extremely athletic player who's been rising very quickly on draft boards. Burns has the potential to be an absolute problem for offenses in the future. His bend and first step are exceptional and if he can put on some good weight, there will be very few linemen who can slow him down.
Round 2, Pick 47: Juan Thornhill, Safety, Virginia
Panthers fill another big hole in the defense with Thornhill in the second. Carolina brought back veteran safety Eric Reid but his running mate still remains a big question. Raashan Gaulden is a mystery and Lord knows we don't need Colin Jones slotting in back there. Enter Thornhill who has reeled in 13 (six in 2018) interceptions during his tenure at Virginia. Thornhill is not shy of contact as he's shown the ability to be a heat seeking missile from the secondary position. Thornhill has the experience to play the deep ball and also do damage closer to the line of scrimmage.
Round 3, Pick 77: Ben Powers, OL, Oklahoma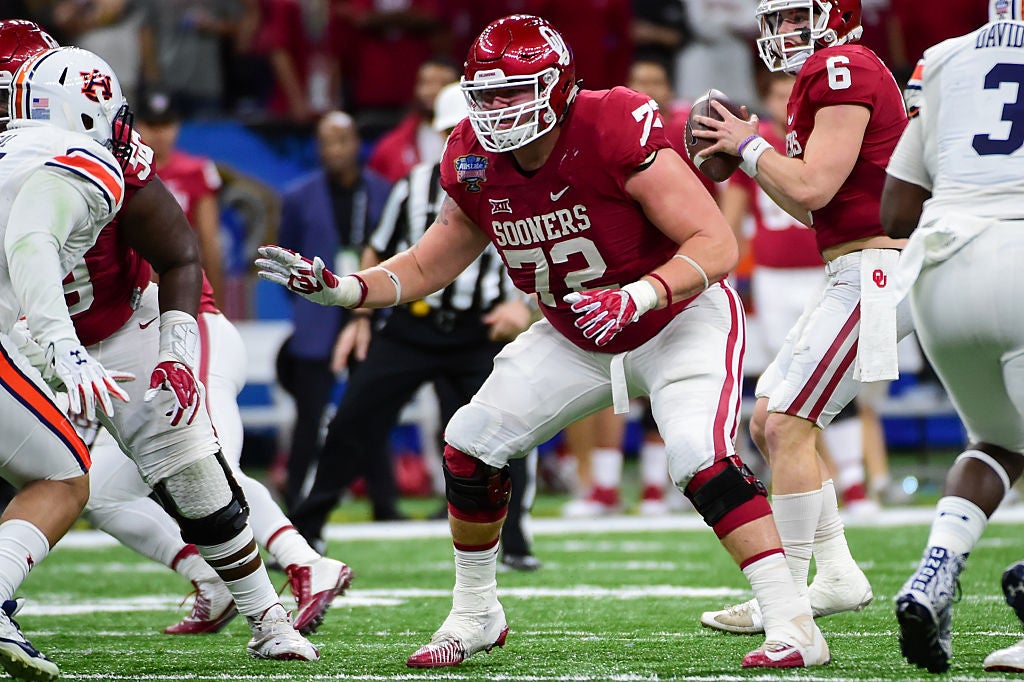 To the distress of many Panthers fans. Carolina finally addresses the offensive line in the third round. Arguably the unit that needs to most tune up on the team in order to better to protect their quarterbacks who all of which got hurt standing behind them last season. Carolina has already signed highly touted center Matt Paradis and re-signed right tackle Daryl Williams. Taylor Moton came into his own in Williams' absence so it will be interesting to see how the 5 starters lineup come the regular season. More likely than not, Williams or Moton will move over to LT, leaving the LG spot to be filled by Powers.
Round 3, Pick 100: Bobby Okereke, LB, Stanford
With all signs showing that Carolina is moving to a 3-4, they will need to add another LB who can hopefully be Luke Kuechly's running mate. I'm uncertain that player is Shaq Thompson, and he might be moving to more of an EDGE role in a 3-4 anyways. Enter Okereke who is a player with solid natural instincts that excels at reading a play and attacking the ball. Okereke is a hard hitting tackler but needs to improve in wrapping and finishing his hits. He's extremely athletic and has the ability to drop back in coverage and should be able to cover tight ends decently well. He needs to bulk up and fill out quite a bit, at the moment he kind of resembles more of a box safety, but I don't think it's that pressing of an issue. Also his name combined with Kuechly's would be a pain in the ass for announcers.
Round 4, Pick 115: Gerald Willis III, IDL, Miami
Carolina finishes the rebuild of their defense with personality by taking Miami's Gerald Willis III. With his production at Miami, this would be an amazing value pick at this point in the draft in my opinion. Willis has an extremely high motor and has displayed the versatility to play in a 1, 3 or 5 technique on the defensive line. Willis also carries a devastating swim move that he uses to get to the quarterback and create pressure. Paired with Kawaan Short, Dontari Poe, Kyle Love and Vernon Butler (eh) the interior defensive line should be solid.
Round 5, Pick 154: David Sills V, WR, WVU
The official Devin Funchess replacement. Sills is a lengthy 6'4 receiver who was highly productive in West Virginia, who in just two seasons at receiver after a switch from being a quarter back, finished his collegiate career with 1,966 receiving yards and 33 touchdowns (18 in 2017, 15 in 2018). Carolina did just sign Chris Hogan and I'm unsure how they'll want to lineup with he, D.J. Moore, Curtis Samuel, Jarius Wright, and Torrey Smith. However, that group still lacks a tall possession receiver and Sills could fill that void.
Round 6, Pick 187: Travis Homer, RB, Miami
Carolina concludes the draft double dipping in Miami with running back Travis Homer. Rivera and company have expressed interest in finding a capable backup to take the load off Christian McCaffrey (insert CJ Anderson jokes here). Homer fills this self-inflicted void. Homer is a smooth and quick runner who seeks out contact to punish defenders. He impressed at the combine, posting a solid 4.48 40 time and was one of the more fluid backs during drills. If Cameron Artis-Payne doesn't check out in what will be his 5th season, Homer could very well be the double threat behind CMC.