2019 has been an eventful year. Usually, around this time, major media outlets start producing "Best of… <insert whatever year it happens to be>" pieces. They range from music to sports and popular culture. But, with 2019 coming at the end of the decade, those "Best of 2019" articles have morphed into "Best of the 2010s" articles, with most major sports media players writing about all-decade teams.
Well, the Charlotte Hornets are sadly a professional basketball team. That means they will be (and already have been) included in this "All-Decade team" circus. This article isn't meant to take away from those articles.
All-Decade teams are a fun thought experiment. However, are there really five players worth giving a nod to represent this team over such a pathetic decade of basketball?
Let's recap.
The 2010-11 Charlotte Bobcats (yes, remember the Bobcats?) kicked off the decade with a comfortable 34-48 start. Gerald Wallace only played 48 games during this season. In fact, the only two players to play in all 82 games were Boris Diaw and DJ Augustin.
Yikes.

To give a sense of how much roster depth this Bobcats team had, Basketball Reference shows that there are 18 different players that played in at least ten games that particular season.
Let's list those players:
Gerald Wallace, Stephen Jackson, Boris Diaw, Kwame Brown, Gerald Henderson, Dante Cunningham, Tyrus Thomas, DJ White, Shaun Livingston, Nazr Mohammed, Dominic McGuire, Eduardo Najera, Derrick Brown (Auburn defensive tackle?), Matt Carroll, Garrett Temple, Sherron Collins, and a player named DeSagana Diop making roughly $35 million over five years.
Kwame Brown started 50 games for the 2010-11 Bobcats and if that is not an indictment of just how bad that team was, I'm not sure what is.

Stephen Jackson had a solid year and the Bobcats were able to get him for two aging players, but it is difficult to put meaning in his numbers given, well, nobody else could score on this version of the Bobcats.
Let's go ahead and skip to the 2011 offseason.
The big move that the Bobcats made was making an in-draft trade with the Bucks. They sent Stephen Jackson, Shaun Livingston, and the rights to (sigh..) Tobias Harris in order to receive Cory Maggette and (sigh..) Bismack Biyombo.
Now I'm not here to correct every bad draft pick from the Bobcats/Hornets. BUT. There is going to be a lot of talk about missteps in the draft.
This was one of them. Luckily, two picks later, the Bobcats landed their future-best-player-in-history in Kemba Walker. It's just ironic how, during the time, they preferred a player who is now one of the most overpaid in the NBA, making over $17 million per year despite averaging just eight points per game in 2019.
Following a lock-out by the Player's Association, the Bobcats started their 2011-12 campaign with a promising win against the Milwaukee Bucks. They won by a single point, with leading scorer DJ Augustin having a crisp 19/2/8 stat line.
[Side note: I shutter every time I type out the word "Bobcats" regretting the era which I willingly watched wretched basketball]
This is where things go downhill.
The Bobcats had seven different losing streaks of variance in how painful they were. The first losing streak only lasted four games. Being at the beginning of the season, everyone knew the Bobcats were going to be bad. They just didn't think it would be "Give Gerald Henderson 33 minutes per game" bad. Then the Bobcats went on losing streaks of six, 16, five, three, two, with a 23-game losing streak to end the year.
The Bobcats had an offensive rating 9.3 points below league average and a defensive rating 5.8 above league average (don't worry, that's a bad thing). This resulted in a horrendous negative 15.2 net rating compared to the league average.
In comparison, the second-worst team in 2011 was the 20-win Washington Wizards (nearly three times the amount of wins as the Bobcats). They had a net rating (compared to the league average) of -5.2, which is about three times better than the Bobcats that year.
Our king Boris Diaw started his immediate decline during the 2011 season. 32-year-old Cory Maggette shot an astounding 37% from the three-point line. Kemba Walker at least looked promising, averaging about 12 points per game albeit shooting 36% from the field.
Rookie Bismack Biyombo made the mistake of attempting to trash talk Rudy Gay (Also, why would anyone talk trash on this Bobcats team? Like this Bobcats team was bad enough to inspire VICE to write this newsletter on relegation and why it should be a thing in the NBA).

Biyombo <after block>: "This is my house!"
Rudy Gay: "You have seven wins. It's everybody's house."
Rudy Gay was not wrong. The Bobcats won four games at home. It was, indeed, everyone's house.
Looking at this game result table created by Basketball reference, you can see that the Bobcats got schlacked in pretty much every single loss. This is easily the worst team in NBA History and one of the worst displays of professional sports in the United States ever.
I could create this article solely based on the 2011-12 Basketball season alone. But it would become far too long.
Two seasons though the decade, the best player on the Bobcats was a 32-year-old Stephen Jackson that put up empty stats on a bad Charlotte team.
The following offseason, the 7-59 Charlotte Bobcats miss out on top-prize Anthony Davis after falling to the second pick in the lottery. They proceed to select Michael Kidd-Gilchrist above Bradley Beal.
The Bobcats also brought in Ben Gordon, Ramon Sessions, and Brendon Haywood. Sadly, the Bobcats would still finish with the second-worst record in the NBA only ahead of the Orlando Magic.
Kemba Walker's scoring has become more promising as he is averaging almost 18 points per contest on splits of 42/32/80. He would be the only Bobcat to play in all 82 games.
Rookie Michael Kidd-Gilchrist displayed lots of promise, playing in 78 games, averaging 9/6/2 with a block and steal to go along with it.
DeSagana Diop also manages to stick around due to his $7 million contract. That's right. The Bobcats had an overpaid old player. You never would have assumed that, given their near-perfect track record in recent memory, but we'll get to that later.
In the 2013 offseason, the Bobcats selected Cody Zeller with the fourth overall pick in the draft. They also brought back Josh McRoberts and 2011-12 leading scorer Gerald Henderson. The BIG move that the Bobcats made during the summer of '13 was signing Utah big Al Jefferson.
The 2013-14 season would be the last for the Bobcats. Soon, they would be reverting their name back to the Charlotte Hornets (thank god). The Bobcats, though, went out on a high note. Kemba Walker maintained his scoring albeit with slightly worse efficiency, and Al Jefferson averaged 22/11/2 with one steal and one block as well. Gerald Henderson consistently scored roughly 14 points per game on splits of 43/35/76 and Michael Kidd-Gilchrist was playing great perimeter defense.
The Bobcats finished as the seven seed and went on to play the Miami Heat in the first round of the NBA Playoffs.
As you might assume, the Bobcats were swept.
That offseason, the Charlotte Hornets made another big splash in free agency *cue Darth Vader themed walk-out music*.
Lance. Stephenson.
That's right, after Gordon Hayward's agreement with the Hornets was matched by the Utah Jazz, they went after the weirdest man in basketball.
And rightfully so, at the time.
Ben Swanson of At The Hive wrote at the time, "Charlotte desperately wanted to upgrade their talent from the wing after losing out on Gordon Hayward, and they got one of the best young players in Stephenson".
The 2014-15 Charlotte HORNETS took a slight step back and missed the playoffs.
At this point, Bismack Biyombo was very clearly a draft bust, Michael Kidd-Gilchrist wasn't living up to the expectation thrust upon him by being the second overall pick in the draft, and Kemba Walker was still struggling to score in a more efficient manner. The team led by Steve Clifford finished 33-49.
Lance Stephenson was a… uhhhh…. failed experiment. He wasn't what he was touted to be nor was he what Michael Jordan marketed him as part of a big three between Kemba Walker and Al Jefferson.
That's right. That was a totally normal thing that happened. (PLEASE WATCH THIS VIDEO)
I just realized that I forgot to mention that the Hornets had a top-10 pick the previous year and used it on Indiana forward Noah Vonleh (because why not?) and he played in a total of 25 games his rookie season averaging only ten minutes in those appearances. He is not a very good basketball player.
Vonleh was then traded in combination with 2011-12 leading scorer Gerald Henderson to the re-tooling Portland Trail Blazers in exchange for Nic Batum.
The Hornets also drafted Frank Kaminsky in the 2015 NBA Draft after yolo-ing it by passing on Justice Winslow, Myles Turner, Devin Booker, or a package of about six different picks from the Boston Celtics, who were desperately attempting to trade up.
Charlotte also brought in Jeremy Lin, followed by traded for Jeremy Lamb and Spencer Hawes. Hornets legend Bismack Biyombo left in free agency, sadly.
Everything finally came together for the Hornets. They landed Courtney Lee mid-season and finished the year at 48-34, just a half-game back from being the three seed.
Kemba Walker was playing spectacular basketball, Nicolas Batum was also proving to be an incredible pre-season addition to the team.
Other acquisitions like Courtney Lee and Jeremy Lin were proving to be vital to the success of the team.
I mean, there was even a point where someone from Bleacher Report wrote an article about how the Hornets were starting the wrong point guard, and how they should prioritize playing Lin over Walker.
And now, it's time to talk about the most painful two weeks of being a Charlotte Hornets fan during the 2010s.
The sixth-seeded Charlotte Hornets faced off against a LeBron-less Miami Heat team in the first round of the playoffs. They lost the first two games but proceeded to win three games straight.
Then, something terrible happened.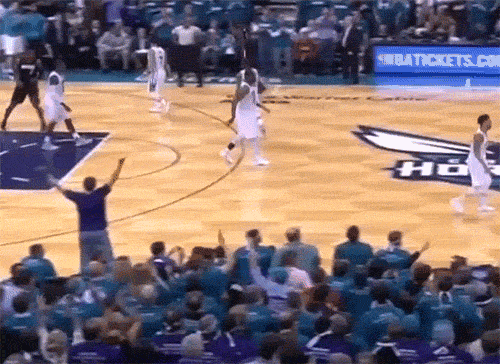 In all seriousness, the Hornets lost the final two games of the series by a combined 40 points. And that is the furthest the Hornets made it in the entire decade. Game seven (which they lost by 33 points) of the first round in the NBA playoffs.
That off-season, more bad things happened.
Marvin Williams signed a four-year/$50 million contract. Michael Kidd-Gilchrist, who showed some promise in the seven games that he played in 2015-16, signed a four-year extension worth roughly the same as Williams's contract.
Kemba Walker actually signed a four-year, $48 million contract during the previous season, which is perhaps the one good thing that resulted of the salary cap spike of 2016. The Hornets allowed Jeremy Lin, Al Jefferson, and Courtney Lee to walk in free agency, though, as they simply could not afford to keep everyone.
The one player that they did manage to keep, however, was Nic Batum, who was heavily interested in going to Dallas but was convinced by Kemba Walker and co. to stay in Charlotte on a 'discount'
That "discount" wasn't much, though. Batum signed a five-year, $120 million deal to stay in Charlotte.
And when the salary cap did not increase in a major way again the following offseason, the Hornets became stuck in a contract situation that, put simply, no one wanted.
In an attempt to gain another role player, the Hornets sent their first-round pick during the 2016 offseason to the Sacramento Kings in exchange for shooter Marco Belinelli.
You know what? To hell with this. I'm going to make both 2016-17 and the 2017-18 years synonymous. Because you know what? Nothing changed. Sure, the Hornets made a couple of different trades, like adding Miles Plumlee and then subsequently trading him for Dwight Howard the following offseason, but nothing major changed. Both years, the Hornets finished 36-46 and had the 11th overall pick. Both years, the Hornets missed out on a superior player in the draft following the season (Donovan Mitchell and Shai Gilgeous-Alexander).
Both years were disappointments in their own right and the fact that nothing major changed during the entirety of either year is an indictment of how complacent management was and still is.
You can point to Dwight Howard and say: "That was a big trade at the time", but Dwight Howard was a declining center who could not contribute to winning basketball anymore as his style of play had become outdated. He put up stats in both Atlanta and Charlotte. At the end of the day, those stats were meaningless.
The Hornets also had awful asset management during this time. Rich Cho is, at least in part, to blame for this. Yet the one constant, even before Cho was instilled as general manager was Michael Jordan and his undying influence on the poor souls he surrounded himself with. During this time (and much longer before these two years), he had scouts reporting directly to him and he would then pull strings from there. Michael Jordan is to blame for some of the most average, mediocre years in Charlotte Hornets basketball, and nothing could waver my confidence in saying that.
Then we get to 2018-19. The Charlotte Hornets have one asset and his name is Kemba Walker. He is, without a doubt, very clearly a top-5 point guard in the NBA. Nicolas Batum has fallen off an has shown he was never worth the $27 million price tag associated with his name. Jeremy Lamb was an interesting surprise in 2017-18 and has clearly become the number two player on the team.
The Hornets acquired Bismack Biyombo again during the 2018 offseason, because why not? They also brought in Spurs legend Tony Parker for the final year in his career. Dwayne Bacon has been a nice surprise and Frank Kaminsky seems to be another disappointing lottery pick.
The season starts and the Hornets actually have a shot at making the playoffs as a 7-8 seed, but after the All-Star break, they would barely lose out to the Magic and Pistons and be excluded from the playoffs by a single game.
After that, the Hornets proceeded to lose Kemba Walker to the Celtics because they were not willing to pay him the amount he requested.
Actually, let me fix that.
The Hornets did not just lose Kemba Walker. They completed a sign-and-trade that gave Kemba Walker to the Celtics in exchange for $19-million-per-year Terry Rozier.
We're in December now, so that's cool. Devonte' Graham looks like a real player and first-round pick PJ Washington looks like a hit. James Borrego is seemingly a spectacular coach. This year has been really promising.
But if we are talking about the decade, the Hornets do not, under any circumstances, need to have "All-Decade" teams made about them.
You know what? I'm going to make a starting-five of mistakes that the Hornets made this decade that royally skewed their chances of doing anything remotely close to competing.
1. Signing Nic Batum to a five-year/$120 million contract.
This is one of the worst mistakes any team in the NBA has made in the past ten years. Not only does it ruin your chance of being a free agency player for the next five years, but it also improved the team just enough during the 2016-18 seasons to ensure they would not have a top-10 draft selection.

The problem is I can see WHY the Hornets made this mistake. The salary cap spiked and they had to build off of their existing success from the previous year. The problem was the fact that they lost major role players in free agency thus making the team worse regardless of what they did to maintain themselves.
2. Not trading Kemba Walker.
Kemba Walker is the best player in Hornets franchise history, without a doubt. But if the plan was to either low-ball Walker in free agency and/or simply let him walk, then there's zero rationale in not trading him before the trade deadline — especially when a player like Tobias Harris nets four picks along with a young player in Landry Shamet.
AND Tobias Harris isn't even as good as Kemba Walker. It's frustrating.
3. Drafting Frank Kaminsky.
I can point to a lot of draft picks and say "they made a mistake here" but this one, in particular, bugs me. The Hornets needed another guard/wing in their rotation but they decided to add a 23-year old big that cannot defend the paint.
I'm mad at two aspects of this: The no-trade with the Boston Celtics and the players that Kaminsky was picked over. Devin Booker, Justice Winslow, and Myles Turner were all picked within five picks of Kaminsky — and to select him over that group without accepting a trade package that featured six picks from the Celtics is damning.
4. Trading for Miles Plumlee.
The Charlotte Hornets only owed Spencer Hawes and Roy Hibbert a combined $12 million (with Hawes only being on the team for one additional year) had they kept them — but trading for Plumlee started a rotation of trades for overpriced big men — from Plumlee, the Hornets went to Dwight Howard, who was then traded for Timofey Mozgov, who got flipped for Bismack Biyombo later in the same summer.
Not only this, but the Hornets turned the $6 million that Hawes was owed in 2017-18 into $17 million that Bismack Biyombo will be paid in 2019-20, with of course an elongation of payment.
5. Trading Stephen Jackson, Shaun Livingston, and what would become Tobias Harris for Bismack Biyombo and Cory Maggette.

Sure, Biyombo looked promising at the time, but this move really absolutely killed the Hornets in 2011-12, when they won just seven games. Biyombo never really panned out, and Tobias Harris simply did. Stephen Jackson was never really the same after that 2010-11 year, but I'm absolutely certain he would have faired better than what actually happened.
The Hornets have always sucked, but they were especially bad during the 2010s. They made the playoffs twice and won three games in those two series. Multiple missed draft picks, a plethora of botched trades, and a handful of bad contracts killed them. There simply are not enough good players during the 2010s for the Bobcats/Hornets to consider actually rewarding them with an "All-Decade" team.