After eons of anticipation and millions of mock drafts, the NFL Draft has finally arrived. With the 16th pick in the NFL draft the Carolina Panthers have selected Florida St. EDGE rusher, Brian Burns. Burns has been the coveted pick from just about everyone in Panthers nation leading up to the draft so this pick will surely give Carolina fans something to be even more happy about heading into this weekend.
A quick look at how Burns will fit into the Panthers defense. All signs this offseason are pointing to a switch in scheme to a 3-4 or at least we'll be showing 3-4 looks a lot more than in the past. There's still kinks to be worked out, but it appears that Burns is going to slot in perfectly in one of those OLB/EDGE roles opposite to what I assume will be Bruce Irvin or maybe Mario Addison. When we show 4-3, he should seamlessly slide down to a more traditional defensive end spot.
Burns contributed some good production in terms of rushing the passer during his tenure at Florida St. In 33 games in three seasons, Burns totaled 23 sacks (10 in 2018 in 12 games) and 38.5 tackles for loss. He knows how to disrupt a backfield and uses his athletic ability and a handful of moves to do so, something the Panthers were in desperate need of.
Here he is euro stepping in practice:
Pure speedy blow by here against Miami:
Quick jab to the inside here and a strong rip to get to the quarterback and effect the pass: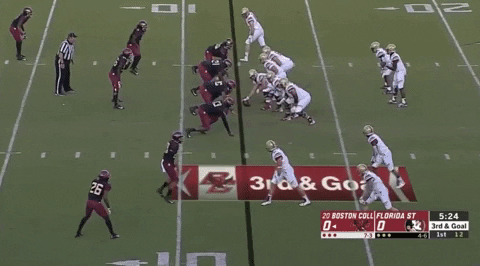 He does have some noted issues with his run support defense, and the jury is still out on how many pass rushing moves he can actually use against NFL talent. He isn't by any means a sure fire bet to succeed at the next level but he surely has all the potential to do so. I personally believe the Panthers made the right choice in sitting still and snagging Burns at 16 and think he can be highly productive in Ron Rivera's defense.
Draft Grade – A-